Welcome to the Maldives, a tropical paradise renowned for its crystal-clear waters, powdery white beaches, and extravagant overwater villas. Join me as we embark on a journey to explore these lavish getaways, where seclusion, awe-inspiring views, and unparalleled service combine to create an unparalleled escape. Prepare to indulge in the epitome of extravagance as we dive into the world of Maldives' overwater villas.
Maldives: A Realm of Unparalleled Elegance
The Maldives, an archipelago of 26 atolls in the Indian Ocean, is a realm of unparalleled elegance, offering an exclusive haven for discerning travelers seeking the finest luxuries. Its collection of private island resorts and overwater villas provide an intimate escape, surrounded by breathtaking natural beauty and serenity.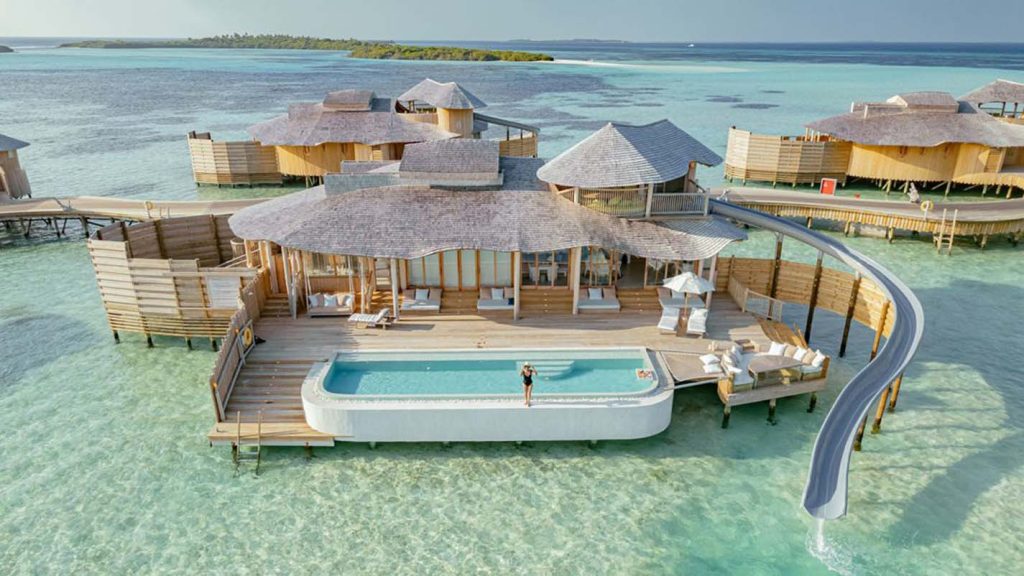 Velaa Private Island: A Haven of Unimaginable Opulence
Tucked away on the Noonu Atoll, Velaa Private Island stands as a secluded sanctuary of ultimate indulgence. Its overwater villas redefine the concept of luxury, featuring private infinity pools, direct access to the glistening lagoon, and personalized butler service. Velaa Private Island Resort caters exclusively to guests seeking utmost privacy and unrivaled comforts. From the tantalizing gourmet cuisine to the bespoke spa treatments, every aspect of Velaa Private Island promises an unforgettable escapade into pure opulence. To experience the epitome of extravagance at Velaa Private Island, secure your reservation through esteemed platforms such as Booking.com or Expedia.
Soneva Jani: A Symphony of Sophistication
Nestled in the Noonu Atoll, Soneva Jani presents an enchanting symphony of sophistication amidst the turquoise Maldivian waters. Its iconic overwater villas, adorned with retractable roofs for stargazing, offer an ethereal and surreal experience. Featuring water slides leading directly into the lagoon, private pools, and personalized butler services, Soneva Jani weaves dreams into reality for its guests. Additionally, the resort's unwavering commitment to sustainability and eco-friendly practices adds an extra layer of allure to this idyllic retreat. For a transcendent encounter at Soneva Jani, book your stay through reputable platforms like Booking.com or Expedia.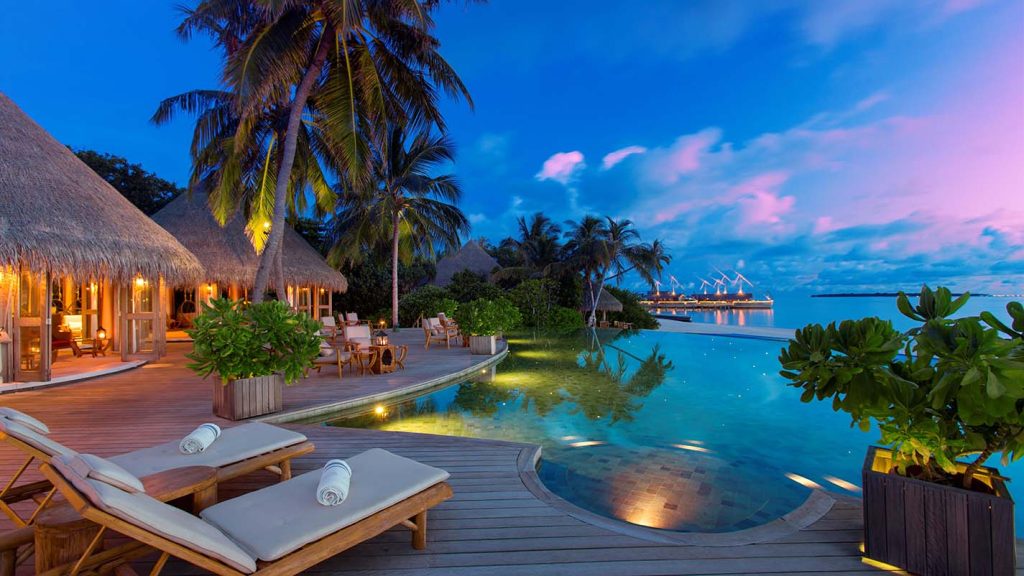 Gili Lankanfushi: A Sanctuary of Serenity
Nestled on the North Malé Atoll, Gili Lankanfushi is a true sanctuary for those yearning for serenity and tranquility. Its overwater villas, meticulously designed with natural materials, seamlessly blend with the surrounding environment. With unobstructed ocean vistas, private sundecks, and direct access to the vibrant marine life below, Gili Lankanfushi creates an intimate escape into nature's embrace. The resort's focus on sustainability and responsible tourism further enhances the experience for eco-conscious travelers. For an undisturbed and eco-friendly retreat at Gili Lankanfushi, secure your booking via reputable platforms like Booking.com or Expedia.
Four Seasons Resort Maldives at Kuda Huraa: A Tropical Haven
Situated on the North Malé Atoll, the Four Seasons Resort Maldives at Kuda Huraa promises a tropical haven of unparalleled luxury. Its overwater bungalows exude elegance, featuring traditional thatched roofs, expansive sundecks, and direct access to the vibrant coral reefs. With personalized butler service, an array of water activities, and world-class dining options, this resort guarantees an all-encompassing experience of lavish indulgence. To bask in the tropical paradise of Four Seasons Resort Maldives at Kuda Huraa, reserve your stay through reputable platforms like Booking.com or Expedia.
Embarking on a journey to Maldives' luxurious overwater villas is an expedition into a realm of unparalleled magnificence and splendor. From the exclusivity of Velaa Private Island to the ethereal experiences of Soneva Jani, each resort offers a distinctive and lavish escape. Gili Lankanfushi's eco-conscious ethos and Four Seasons Resort Maldives at Kuda Huraa's tropical elegance further elevate the allure of these extravagant getaways. As you plan your next Maldivian adventure, consider these opulent overwater accommodations for an unforgettable escapade into the height of luxury. Book your stay through trusted platforms like Booking.com or Expedia to ensure a seamless and cherished experience of pure indulgence in the Maldives' overwater villas.