Welcome to the enchanting city of Benidorm, where the night comes alive with the rhythmic beat of dancing feet and the delectable aromas of fine dining under the Spanish sky. This sparkling coastal gem on Spain's Costa Blanca is renowned for its lively after-dark scene, offering an array of bars, clubs, and restaurants that cater to every taste and desire. we will delve into the best of Benidorm's nightlife, from chic dance clubs and laid-back beach bars to elegant restaurants that promise a culinary delight under the stars. So, prepare to be enthralled as we explore the enchanting world of Benidorm's nightlife, where the magic begins when the sun sets.
Dancing the Night Away in Benidorm's Nightclubs
a. KM Playa: Located on the vibrant Levante Beach, KM Playa sets the stage for unforgettable nights by the sea. With world-class DJs, pulsating dance floors, and a lively atmosphere, KM Playa is a must-visit for party-goers looking to dance until dawn.
b. Penelope Beach Club: Situated on the scenic Poniente Beach, Penelope Beach Club offers a perfect blend of music, ambiance, and stunning sea views. The open-air terrace creates an unforgettable setting for dancing under the starry sky.
c. Ku Lounge Bar: For those seeking sophistication and style, Ku Lounge Bar delivers an upscale experience. With chic decor, innovative cocktails, and live music, it provides an ideal setting for an unforgettable night out.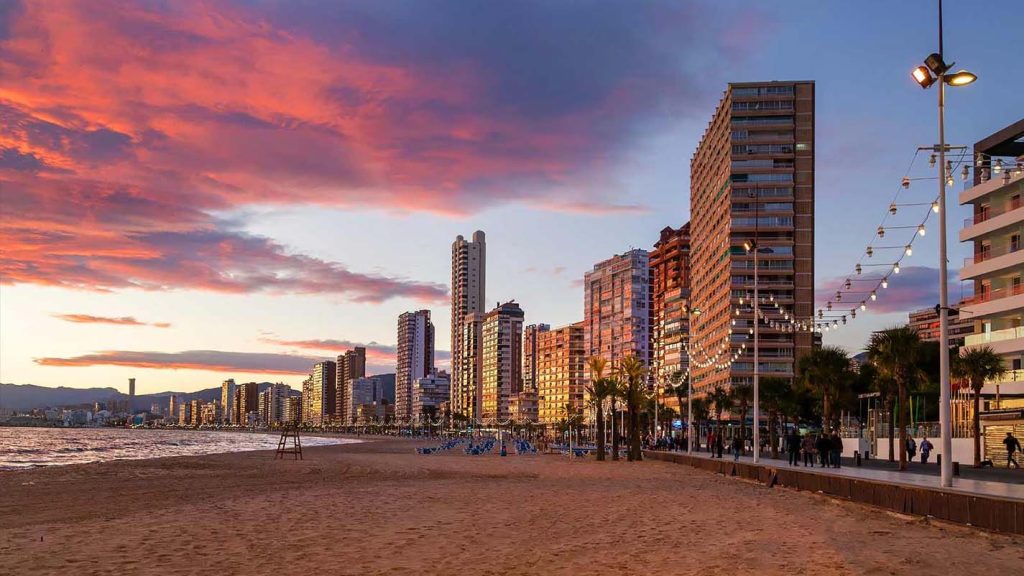 Relaxed Vibes at Beach Bars
a. Tiki Beach Bar: Embrace the laid-back atmosphere of Tiki Beach Bar on Levante Beach. Sip on tropical cocktails, feel the soft sand beneath your feet, and unwind as you listen to the soothing sounds of the waves.
b. Sunset Beach Club: As the name suggests, Sunset Beach Club offers the perfect spot to witness breathtaking sunsets while enjoying refreshing drinks and live music.
c. Sands Beach Bar: Nestled on Poniente Beach, Sands Beach Bar invites you to indulge in delicious drinks and beachside vibes, making it a popular spot for mingling with fellow travelers.
Fine Dining under the Twinkling Stars
a. Ulia Restaurant: Located in the charming Old Town, Ulia Restaurant exudes romance and intimacy. With candlelit tables and a delightful menu featuring Spanish and Mediterranean delicacies, it's the perfect place for a memorable dining experience.
b. Belvedere Restaurant: Perched atop a hill, Belvedere Restaurant offers panoramic views of the city and sea. The combination of gourmet cuisine and a stunning backdrop promises an unforgettable evening.
c. La Falua Restaurant: Overlooking Levante Beach, La Falua Restaurant serves a delectable fusion of Mediterranean and international flavors, complemented by an extensive wine selection. The open-air terrace allows diners to savor the sea breeze and the magic of the moonlit night.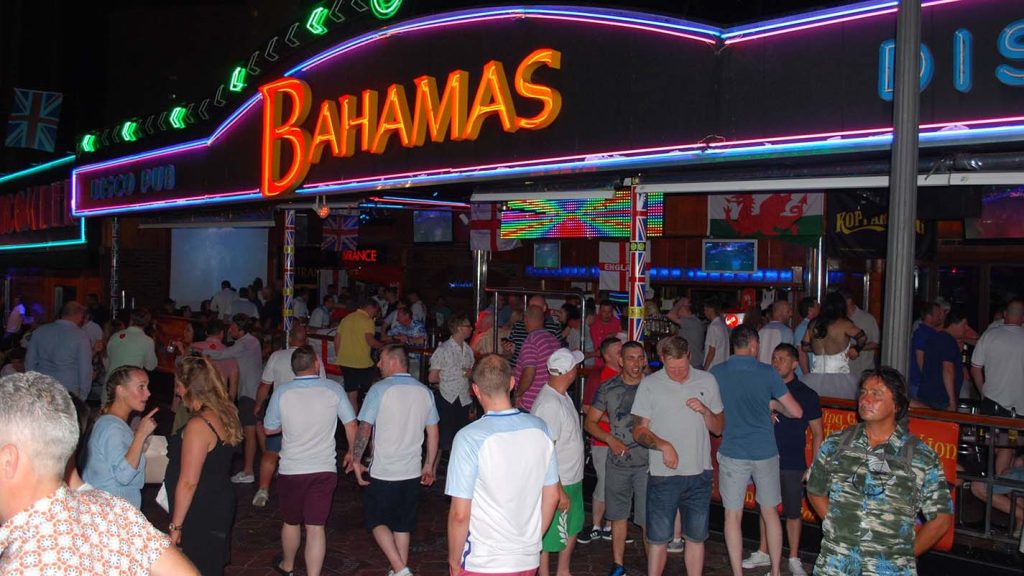 Nighttime Entertainment and Shows
a. Benidorm Palace: Prepare to be dazzled at the renowned Benidorm Palace, a glamorous cabaret venue that hosts flamenco, acrobatics, music, and dance performances. An exquisite dinner adds to the allure of the show.
b. Casino Mediterraneo: For a touch of elegance and excitement, head to Casino Mediterraneo, where gaming enthusiasts can try their luck at the tables while enjoying live music and entertainment.
Benidorm's nightlife offers an unforgettable experience, with dancing and dining under the Spanish sky. Whether you're reveling in the vibrant atmosphere of a dance club, unwinding at a beach bar with your toes in the sand, or savoring gourmet cuisine with a breathtaking view, Benidorm has it all. As our enchanting journey through the city's nightlife comes to an end, I hope this guide has inspired you to explore the magical allure of Benidorm's vibrant nights. With its pulsating energy, rich cultural offerings, and captivating entertainment, Benidorm promises an evening of unforgettable memories as you dance and dine under the Spanish stars.