Welcome to the Algarve, a sun-kissed coastal paradise in the southern region of Portugal, celebrated for its stunning beaches, turquoise waters, and warm hospitality. These lavish accommodations are tailor-made for travelers seeking the finest experiences, impeccable service, and an escape from the daily grind. we will explore these hidden gems, each promising an unforgettable stay in the lap of luxury amidst the captivating beauty of Portugal's south.
Quinta do Lago
Nestled in the heart of the Ria Formosa Natural Park, Quinta do Lago is a prestigious resort that effortlessly blends nature's beauty with lavish indulgence. Boasting world-class golf courses, a serene lake, and a pristine beach, this exclusive hideout offers a harmonious setting for a memorable vacation.
Hotel Recommendation: The Magnolia Hotel
The Magnolia Hotel, nestled within Quinta do Lago, is a chic boutique hotel that exudes sophistication and relaxation. With its retro-chic decor and vibrant ambiance, The Magnolia promises an unforgettable experience. Guests can indulge in an array of amenities, including a spa, fitness center, and an inviting outdoor pool. The hotel also provides complimentary shuttle service to the beach, ensuring a seamless and luxurious stay.
Platform for Booking: Reserve your stay at The Magnolia Hotel through Booking.com or the hotel's official website for exclusive packages and offers.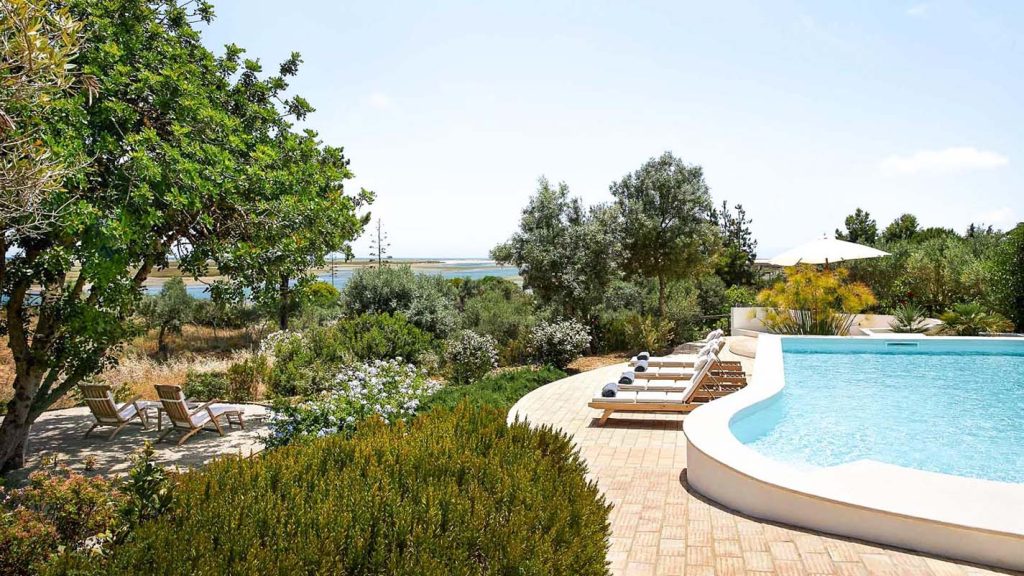 Vilamoura
Vilamoura, an elegant resort town, is renowned for its upscale marina, vibrant nightlife, and world-class dining. This exclusive hideout is a haven for yacht enthusiasts and luxury seekers, offering a plethora of leisure activities and entertainment options.
Hotel Recommendation: Tivoli Marina Vilamoura
The Tivoli Marina Vilamoura is a lavish five-star hotel situated right on the marina, providing unparalleled views of the sparkling waters and luxurious yachts. Guests can unwind in elegant rooms and suites featuring modern amenities and private balconies. The hotel boasts multiple restaurants, a full-service spa, and several swimming pools, ensuring every moment of your stay is nothing short of extraordinary.
Platform for Booking: Book your stay at Tivoli Marina Vilamoura through Booking.com or the hotel's official website to access exclusive deals and packages.
Carvoeiro
For those seeking a more intimate and secluded experience, Carvoeiro offers a tranquil retreat away from the crowds. This charming fishing village is famous for its stunning cliffs, secluded coves, and picturesque coastal trails.
Hotel Recommendation: Tivoli Carvoeiro Algarve Resort
Perched on the cliffs overlooking Vale Covo Beach, the Tivoli Carvoeiro Algarve Resort is a luxurious escape with breathtaking sea views. The elegantly designed rooms and suites provide a sanctuary of comfort and relaxation. Guests can enjoy direct beach access, a beautiful infinity pool, and delectable dining options. Don't miss the chance to witness a magical sunset from the hotel's cliff-top terrace.
Platform for Booking: Secure your stay at Tivoli Carvoeiro Algarve Resort through Booking.com or the hotel's official website for exclusive benefits and deals.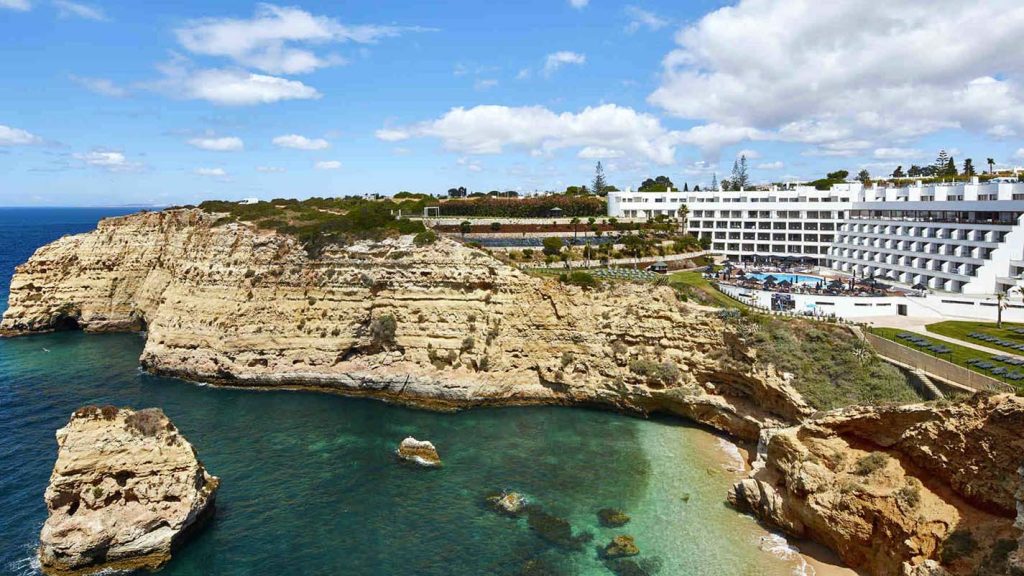 Lagos
Lagos is a historic town with an old-world charm, offering an authentic Algarvian experience amidst its cobbled streets and ancient fortifications.
Hotel Recommendation: Cascade Wellness Resort
The Cascade Wellness Resort is a luxurious haven located in Lagos, nestled amidst beautiful landscaped gardens, and offering breathtaking views of the Atlantic Ocean. This five-star resort features elegant rooms, suites, and villas with private terraces, providing a tranquil retreat for guests. With a world-class spa, a variety of restaurants, and direct access to the beach, the Cascade Wellness Resort ensures an unforgettable stay in Algarve's exclusive hideout.
Platform for Booking: Book your stay at Cascade Wellness Resort through Booking.com or the hotel's official website for exclusive packages and promotions.
Algarve's exclusive hideouts offer a harmonious blend of luxury, serenity, and unparalleled experiences, making them the perfect destinations for discerning travelers. From Quinta do Lago's enchanting fusion of nature and opulence to Vilamoura's allure of an upscale marina, each recommendation promises an exceptional escape in Portugal's southern gem. Whether you seek scenic coastal vistas, world-class amenities, or immersive experiences, these luxurious retreats promise an unforgettable journey in the lap of indulgence. So, book your stay at one of Algarve's exclusive hideouts and immerse yourself in the refined elegance and breathtaking beauty that this region has to offer.