Welcome to the captivating coastal city of Benidorm, where sun, sea, and an electrifying atmosphere combine to create an unforgettable holiday experience. From pristine beaches and historic landmarks to exhilarating theme parks and cultural treasures, Benidorm offers a diverse array of sights that cater to every traveler's desires. Join me as we delve into the must-visit attractions that will leave an indelible mark on your Benidorm adventure.
Levante Beach: A Sun-Kissed Paradise
Your Benidorm journey would be incomplete without a visit to the iconic Levante Beach. With its inviting golden sands and crystal-clear turquoise waters, this beach is a haven for sunbathers and relaxation seekers. Lounge on comfortable sunbeds under colorful parasols, take refreshing dips in the refreshing Mediterranean Sea, or stroll along the bustling promenade lined with lively beach bars, restaurants, and shops.
Balcon del Mediterraneo: The Viewpoint of Tranquility
Nestled between Levante and Poniente Beaches, the Balcon del Mediterraneo, or Balcón de Benidorm, offers a mesmerizing vantage point to behold the coastal beauty. Perched on a rocky outcrop, this charming mirador provides breathtaking panoramic views of the sea and the skyline. Take in the stunning scenery, capture Instagram-worthy snapshots, and immerse yourself in the serenity of this stunning viewpoint.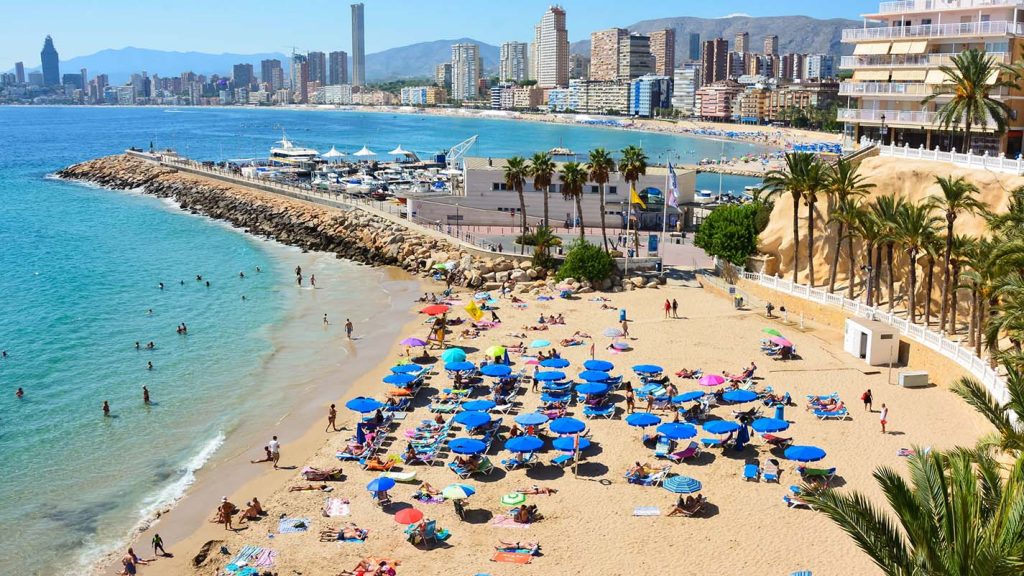 Terra Mitica: An Adventure Through Time
For an adrenaline-pumping experience, venture into the world of ancient civilizations at Terra Mitica, one of Europe's most captivating theme parks. Divided into thematic zones representing different historical eras, the park boasts thrilling roller coasters, exhilarating rides, and live performances that transport you to distant times. From the heart-pounding Magnus Colossus, inspired by the Roman Empire, to the immersive virtual reality experiences in Iberia Park, Terra Mitica promises a day of non-stop fun and excitement.
Aqualandia: Water Fun for Everyone
Escape the heat and plunge into aquatic delights at Aqualandia, Europe's largest water park. This water wonderland offers a range of attractions for all ages, including adrenaline-pumping water slides, relaxing tropical pools, and a massive wave pool. Whether you're seeking thrills or relaxation, Aqualandia ensures a wet and wild experience that will keep you cool and entertained throughout the day.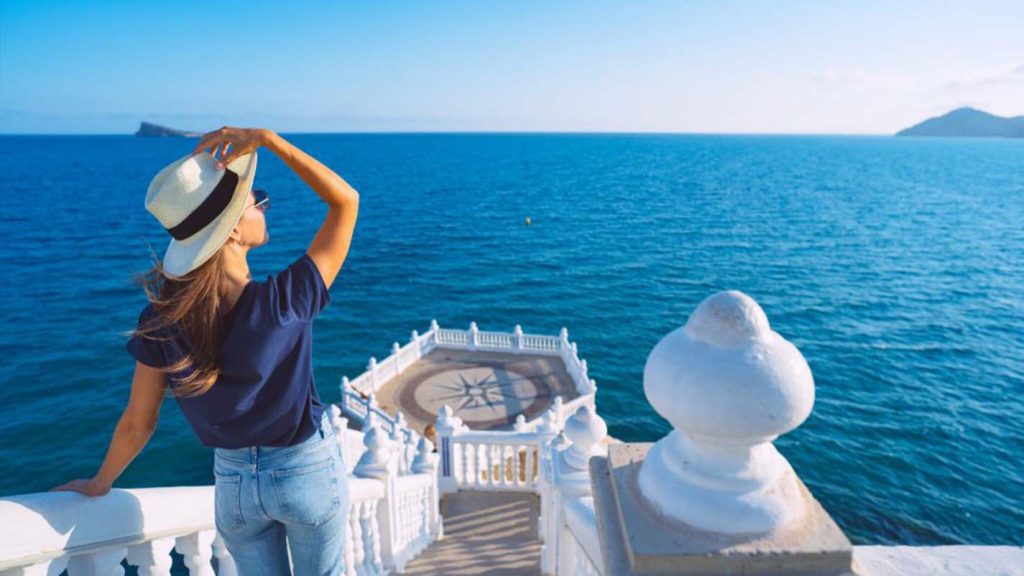 Altea: A Quaint and Cultural Getaway
For a delightful excursion, venture to the nearby town of Altea, a charming gem with its white-washed buildings and quaint streets. Explore the captivating Old Town, where art galleries, boutiques, and craft shops line the cobbled pathways. Don't miss the chance to climb up to the Church of Nuestra Senora del Consuelo for breathtaking views of the Mediterranean Sea and the surrounding landscape.
Villajoyosa: A Colorful Fishing Village
Discover the vibrant coastal town of Villajoyosa, known for its colorful houses and bustling fishing port. Take a leisurely stroll along the seafront promenade adorned with swaying palm trees, and indulge in the town's renowned chocolate-making tradition with a visit to one of its chocolate factories. Relax on sandy beaches, soak in the authentic Spanish atmosphere, and savor the simple pleasures of this charming fishing village.
Benidorm beckons with its sun-soaked beaches, historical landmarks, thrilling theme parks, and nearby cultural escapes. Your journey through Benidorm's top attractions promises an experience that will stay with you forever. Whether you seek relaxation, adventure, or cultural exploration, Benidorm offers a myriad of opportunities to create cherished memories. So, embark on this unforgettable journey to Benidorm's must-visit sights and immerse yourself in the enchanting wonders of this coastal paradise.