Step into a world of unparalleled elegance and refined luxury on the enchanting island of Mallorca. Mallorca, a jewel in the Mediterranean, beckons with its azure waters, sun-kissed beaches, and breathtaking landscapes. Join me as we embark on a journey to discover the island's most exquisite retreats, where opulence, personalized service, and unmatched beauty come together to create an unforgettable experience for the discerning traveler.
Cap Rocat: A Bastion of Tranquility (Book on Booking.com)
Nestled among the cliffs overlooking the Bay of Palma, Cap Rocat is a transformed military fortress that epitomizes tranquility and exclusivity. This boutique hotel boasts elegantly designed suites and rooms, each adorned with private terraces offering captivating sea views. Pamper yourself with personalized services, including dedicated butlers and bespoke dining experiences. Wander through the labyrinthine pathways that lead to secluded coves, allowing you to bask in the Mediterranean sun in absolute seclusion. Cap Rocat is an oasis of serenity, redefining the concept of luxury.
Belmond La Residencia: An Artistic Haven in Deià (Book on Expedia)
Tucked away in the picturesque village of Deià, Belmond La Residencia is a haven of artistic elegance. Surrounded by the majestic Serra de Tramuntana mountains, this 5-star hotel showcases luxurious suites and villas adorned with local artworks and antique furnishings. Indulge in ultimate relaxation at the award-winning spa and savor gourmet cuisine at the esteemed El Olivo restaurant. The impeccable service and breathtaking mountain vistas have made Belmond La Residencia a favored destination for artists, writers, and celebrities seeking inspiration and seclusion.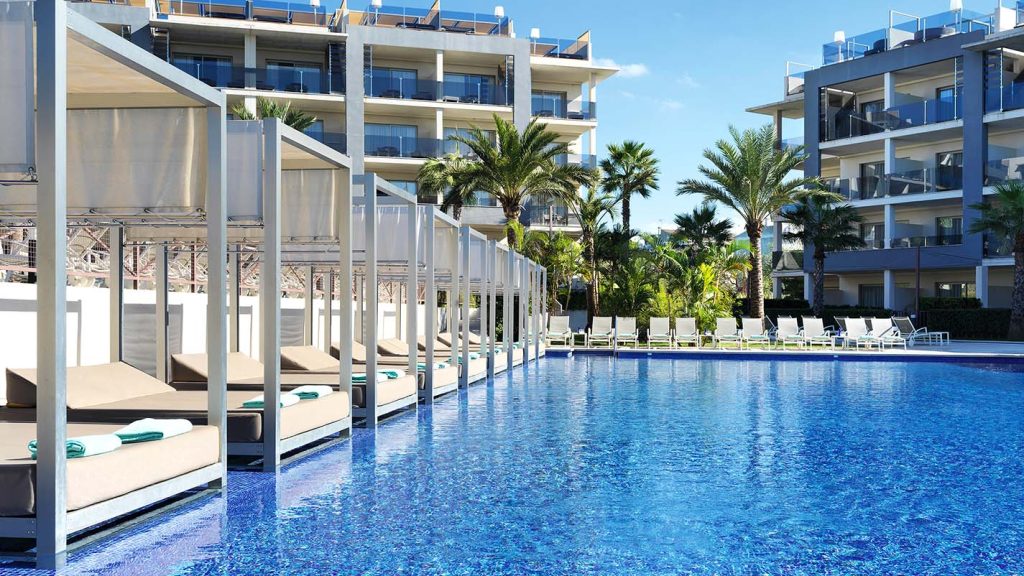 Castell Son Claret: A Romantic Refuge (Book on Hotels.com)
Nestled amidst sprawling gardens and vineyards, Castell Son Claret is a secluded sanctuary where luxury meets natural beauty. Housed within a 19th-century castle, this 5-star hotel offers sumptuously appointed rooms and suites, each exuding timeless charm. Embark on a gastronomic journey at the two-Michelin-starred Zaranda restaurant, and rejuvenate your senses at the tranquil Bellesa de Claret Spa. For a romantic escape, enjoy private dining amidst the olive groves or explore the picturesque countryside on horseback. Castell Son Claret is a romantic retreat where indulgence knows no bounds.
Jumeirah Port Soller Hotel & Spa: Overlooking Mediterranean Splendor (Book on Jumeirah.com)
Perched atop a cliff with a commanding view of the Port de Sóller, Jumeirah Port Soller Hotel & Spa is a modern marvel of luxury and sophistication. Its minimalist design allows the natural beauty of the surroundings to take center stage. Indulge in world-class dining at Es Fanals or sip cocktails at the Sunset Sushi Lounge. The Talise Spa offers an oasis of wellness, offering holistic treatments amidst stunning sea views. Jumeirah Port Soller Hotel & Spa is a haven where contemporary luxury effortlessly blends with Mallorca's captivating coastal beauty.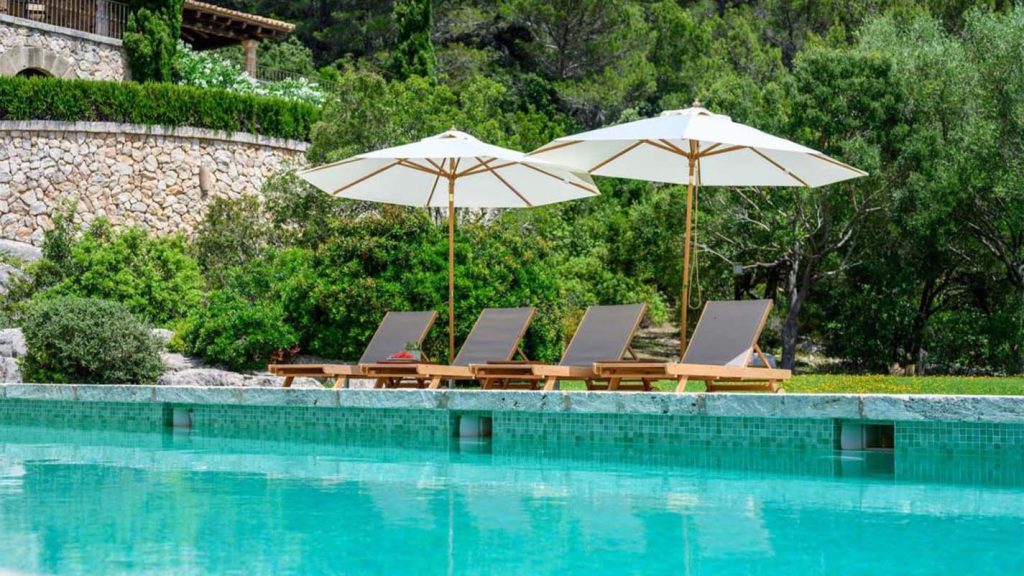 St. Regis Mardavall Mallorca Resort: Unparalleled Elegance (Book on Marriott.com)
Set in a privileged location overlooking the Mediterranean Sea, the St. Regis Mardavall Mallorca Resort sets a new standard for unparalleled elegance. The resort boasts lavish suites and impeccable service, catering to the most discerning travelers. Unwind in poolside cabanas or relax in Balinese-style beds on the private beach. Indulge in gourmet dining at Es Fum, the resort's Michelin-starred restaurant, and rejuvenate at the Arabella Spa with its extensive wellness facilities. The St. Regis Mardavall Mallorca Resort is the epitome of opulence in the Balearic Islands.
Gran Hotel Son Net: A Historic Enclave (Book on GranHotelSonNet.com)
Nestled amidst the heart of the Tramuntana Mountains, Gran Hotel Son Net is a historic sanctuary that seamlessly blends old-world charm with contemporary luxury. Housed within a 17th-century mansion, the hotel offers elegantly appointed rooms and suites, each exuding character and warmth. Savor the panoramic views of the surrounding countryside from the infinity pool, and relish authentic Mallorcan cuisine at Oleum restaurant. For a truly unforgettable experience, embark on a hot air balloon ride over the island's breathtaking landscapes. Gran Hotel Son Net is a dreamlike retreat that promises an enchanting stay.
Mallorca's exquisite retreats redefine luxury, offering an unparalleled experience on the Balearic Islands. Whether you choose to immerse yourself in the tranquility of Cap Rocat, savor the contemporary luxury of Jumeirah Port Soller Hotel & Spa, embrace romance at Castell Son Claret, or indulge in unparalleled elegance at the St. Regis Mardavall Mallorca Resort, these sophisticated stays promise an unforgettable escape where every desire is catered to. Prepare to be enchanted as you step into the lap of Balearic luxury, where the beauty of Mallorca's landscapes is surpassed only by the excellence of its hospitality. Remember to book your stay through the recommended platforms to ensure an exceptional experience.