Welcome to the captivating shores of Benidorm, a coastal haven on Spain's Costa Blanca, where relaxation and recreation blend seamlessly on the sun-drenched Mediterranean coast.With its golden sands, turquoise waters, and idyllic weather, Benidorm has emerged as a sought-after destination for beach enthusiasts worldwide.we will reveal the most alluring beaches in Benidorm, each offering a unique and unforgettable experience. So, join me as we set forth to explore the stunning world of Benidorm's finest beaches, ensuring your visit is a true celebration of the Mediterranean's seaside treasures.
Levante Beach: The Vibrant Playground
Levante Beach, also known as "Sunrise Beach," stands at the heart of Benidorm's tourist district, exuding an atmosphere of vibrancy and excitement. Its expansive shoreline of fine golden sand attracts sun worshippers and water sports aficionados alike. Whether you wish to indulge in swimming, paddleboarding, or jet skiing, Levante Beach offers the perfect playground for aquatic adventures. The lively beachfront promenade is lined with an array of bars, restaurants, and shops, providing endless opportunities for relaxation and entertainment.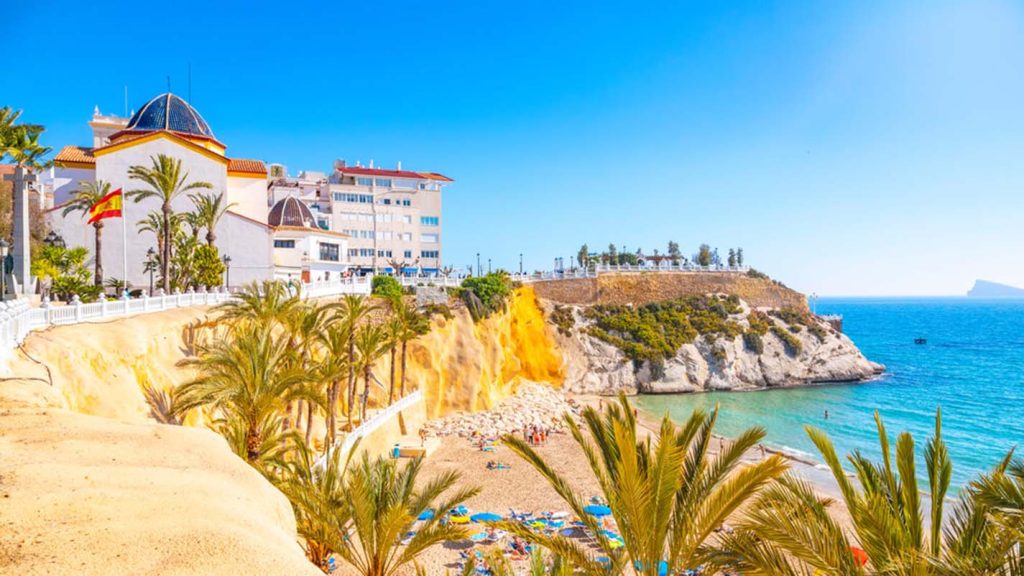 Poniente Beach: The Tranquil Oasis
Poniente Beach, fondly referred to as "Sunset Beach," offers a serene and picturesque retreat to the west of the Old Town. With its softer sands and gentle waves, Poniente Beach creates an ideal setting for families and couples seeking tranquility. As the day draws to a close, Poniente Beach unveils a magical spectacle of breathtaking sunsets, painting the sky with a kaleidoscope of hues. The palm-fringed promenade invites leisurely strolls and invites you to savor delectable dining options, adding to the romantic allure of this coastal oasis.
Mal Pas Beach: The Secluded Gem
Nestled between the Balcon del Mediterraneo and the Old Town, Mal Pas Beach stands as a hidden gem waiting to be discovered. This intimate cove, adorned with rocky outcrops, creates an air of seclusion, making it a preferred spot for those seeking a tranquil escape. The clear waters and gentle currents make Mal Pas Beach an excellent location for snorkeling and exploring the vibrant underwater world. The charming coastal path leading to the beach offers breathtaking panoramic views, an experience cherished by nature enthusiasts and photographers alike.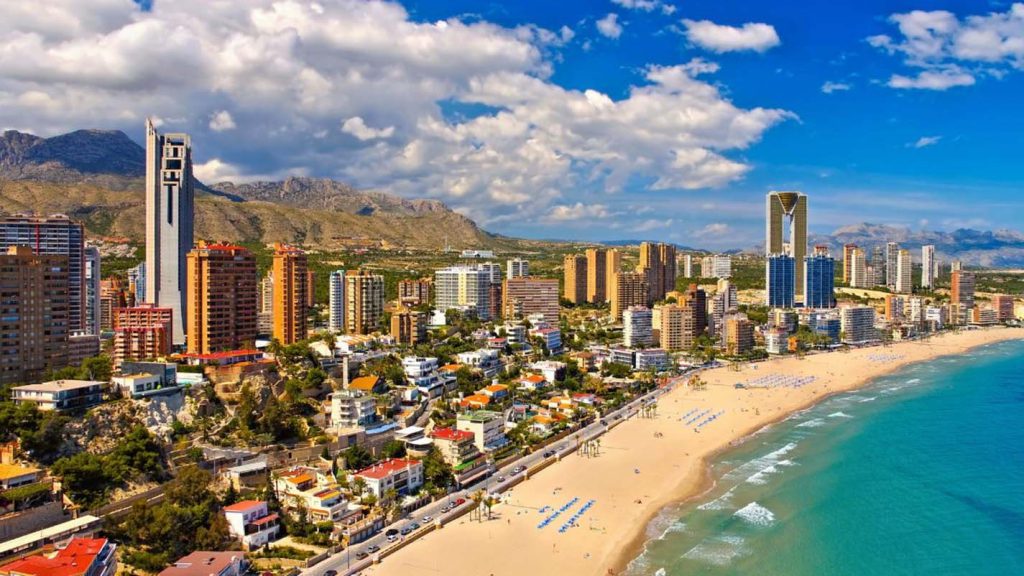 Cala de Finestrat: The Scenic Hideaway
A short distance from Benidorm, Cala de Finestrat presents a scenic hideaway from the city's bustling center. This beach showcases a more natural and untouched ambiance, surrounded by rugged cliffs and lush vegetation. Cala de Finestrat is the perfect choice for those yearning to immerse themselves in the tranquility of nature, away from the crowds. The crystal-clear waters and gentle waves invite you to take a refreshing dip, while the encompassing cliffs offer opportunities for invigorating hikes and exploration.
Playa de Mal Pas: The Historic Charm
Playa de Mal Pas, situated close to the Old Town, emanates an aura of historic charm and authenticity. Its proximity to the ancient center allows history enthusiasts to merge cultural experiences with coastal relaxation. The picturesque views of the old town and the impressive Church of San Jaime enhance the beach's appeal. With its calm waters and inviting ambiance, Playa de Mal Pas provides a perfect spot to unwind and cherish Benidorm's distinctive blend of history and seaside allure.
Benidorm's finest beaches reveal a diverse array of experiences, catering to the desires of every beach lover. Whether you seek the lively atmosphere of Levante Beach, the tranquil ambiance of Poniente Beach, or the secluded charm of Mal Pas Beach, each coastal treasure promises an extraordinary Mediterranean retreat. From the scenic Cala de Finestrat to the historically rich Playa de Mal Pas, each beach offers a unique opportunity to embrace the beauty and allure of the Mediterranean's seaside wonders. As we conclude our journey through the captivating world of Benidorm's best beaches, I hope this guide inspires you to embark on your own adventure and savor the Mediterranean's idyllic seaside treasures in this radiant coastal haven.