Welcome to the radiant coastal gem of Benidorm, where sun-kissed beaches, turquoise waters, and endless fun await travelers on Spain's Costa Blanca. From its humble fishing village roots to its status as a coveted holiday haven, Benidorm's transformation is a testament to its enduring allure. we will delve into the highlights of Benidorm, exploring its picturesque beaches, thrilling water sports, rich cultural offerings, and a myriad of exciting attractions. So, fasten your seatbelts, and let's embark on a blissful adventure, embracing the best of Benidorm on Spain's captivating Costa Blanca.
Iconic Beaches of Benidorm
a. Levante Beach: Nestled in the heart of the tourist district, Levante Beach is a quintessential Mediterranean paradise. With its soft sands and inviting waters, it is perfect for sunbathing, swimming, and water sports. The lively promenade features an array of bars, restaurants, and shops, creating an atmosphere of endless entertainment.
b. Poniente Beach: A slightly more tranquil counterpart to Levante, Poniente Beach offers a serene escape with its long stretch of fine sand and stunning sunsets. Families and couples will find solace amidst the quieter ambiance.
c. Mal Pas Beach: Discover the charm of Mal Pas Beach, a hidden cove nestled between the Balcon del Mediterraneo and the Old Town. Its secluded setting and rocky outcrops provide a serene backdrop for relaxation.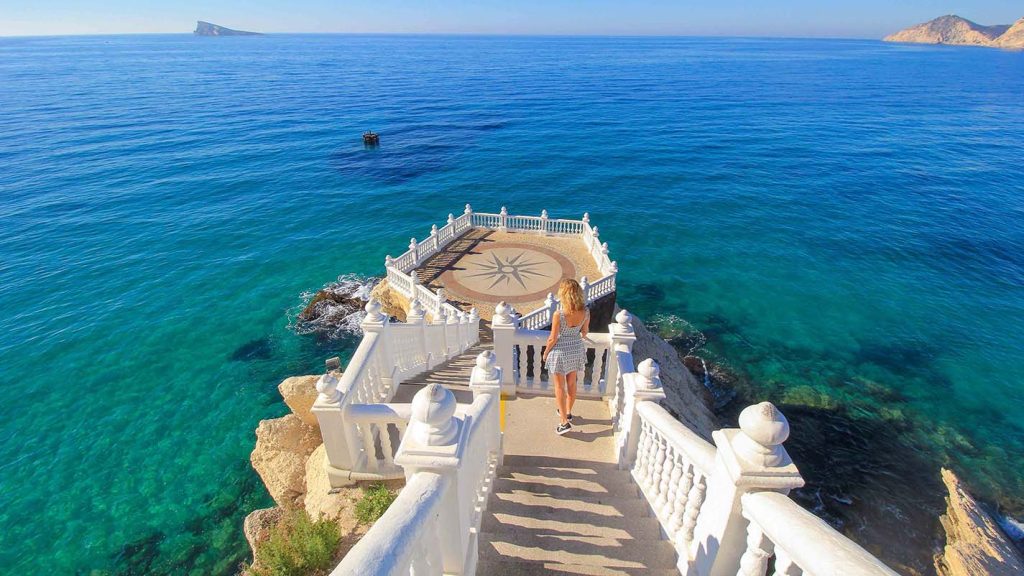 Water Sports and Adventure Extravaganza
a. Scuba Diving: Venture into the underwater wonderland off Benidorm's coast with scuba diving excursions. Witness colorful marine life and explore captivating shipwrecks in the crystal-clear waters.
b. Jet Skiing and Parasailing: Thrill-seekers can quench their adrenaline thirst by indulging in jet skiing or parasailing adventures, offering a bird's-eye view of the coastal beauty.
c. Catamaran Cruises: Treat yourself to a leisurely catamaran cruise along the scenic coast, soaking in the sea breeze and taking in mesmerizing vistas of the city.
Cultural Charms of Benidorm
a. The Old Town: Step back in time as you meander through the enchanting streets of Benidorm's Old Town. Admire the historic architecture, visit the Church of San Jaime, and savor delectable tapas in traditional eateries.
b. Benidorm Palace: Experience an unforgettable night of glamour and entertainment at the world-renowned Benidorm Palace. Enjoy spectacular flamenco, cabaret, and musical performances accompanied by a sumptuous dinner.
c. Mirador del Castillo: Ascend to the Castle Viewpoint for panoramic vistas of Benidorm and the surrounding landscapes, offering an excellent opportunity to capture picture-perfect moments.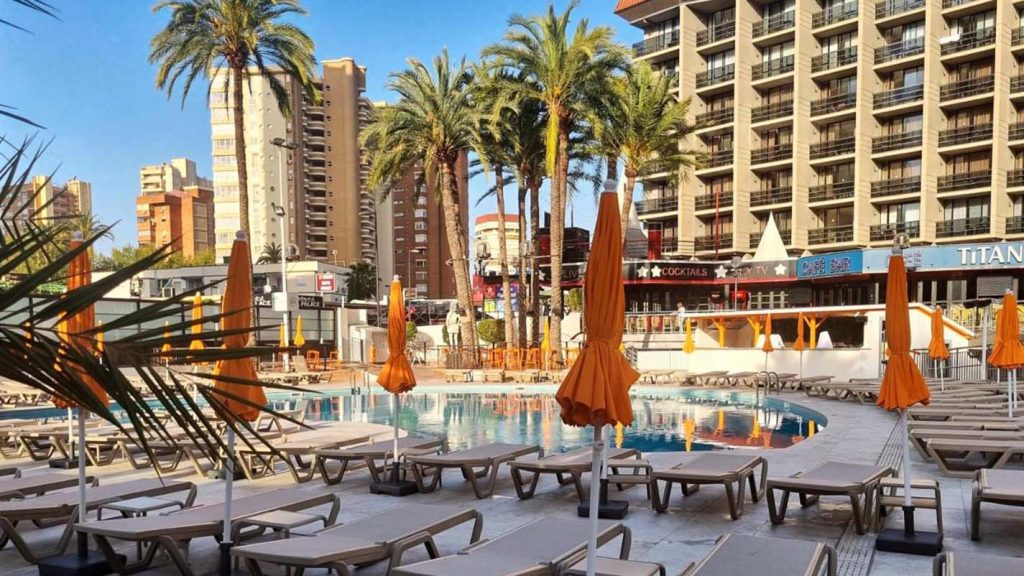 Thrilling Theme Park Escapades
a. Terra Mitica: Unleash your inner adventurer at Terra Mitica, a thrilling theme park celebrating the ancient civilizations of Egypt, Greece, and Rome. From exhilarating rides to captivating live shows, it promises an action-packed day of excitement.
b. Aqualandia: Cool off at Aqualandia, one of Europe's largest water parks, boasting a wide range of water slides, wave pools, and relaxation areas for visitors of all ages.
Nightlife and Entertainment Extravaganza
a. The Square: Discover the vibrant heart of Benidorm's nightlife at The Square, a lively hub brimming with bars, clubs, and live performances to dance the night away.
b. Casino Mediterraneo: For those seeking a touch of glamour and chance, the Casino Mediterraneo offers an array of gaming options and entertainment for an exhilarating night out.
Benidorm, a radiant jewel on Spain's Costa Blanca, beckons travelers with its irresistible blend of sun, sea, and boundless fun. Whether you crave relaxation or excitement, cultural immersion or vibrant nightlife, Benidorm caters to all preferences. As we conclude our tour of this enchanting destination, let the allure of Benidorm inspire you to plan your own unforgettable sojourn, where you can immerse yourself in the blissful trio of sun, sea, and excitement on Spain's captivating Costa Blanca.